This is no ordinary art exhibition
Van Gogh's works have been exhibited and admired for over a century – but never like this. Created by Grande Experiences, Van Gogh Alive gives visitors the unique opportunity to immerse themselves into Van Gogh's artistry and truly venture into his world. Traditions of tiptoeing through silent galleries and viewing paintings from afar in quiet contemplation are forgotten as visitors find themselves interacting with art in ways they never imagined. From start to finish, visitors are surrounded by a vibrant symphony of light, colour, sound and fragrance as they wander around the exhibition and absorb it from every possible angle. Van Gogh's masterpieces come to life, giving visitors the sensation of walking right into his paintings, a feeling that is simultaneously enchanting, entertaining and educational. Adults and children delight in the super-scale show, viewing artworks from new angles and discovering unique perspectives. But don't just take their word for it: experience it for yourself!
Keep on scrolling to discover what you can expect to experience at Van Gogh Alive…
Interpretative area
Upon arrival you will enter the Interpretative Area which will provide you with important information about the exhibition and educate you about the life and works of Vincent van Gogh. Offering fascinating insights into his most famous works, it whets the appetite for what lies ahead.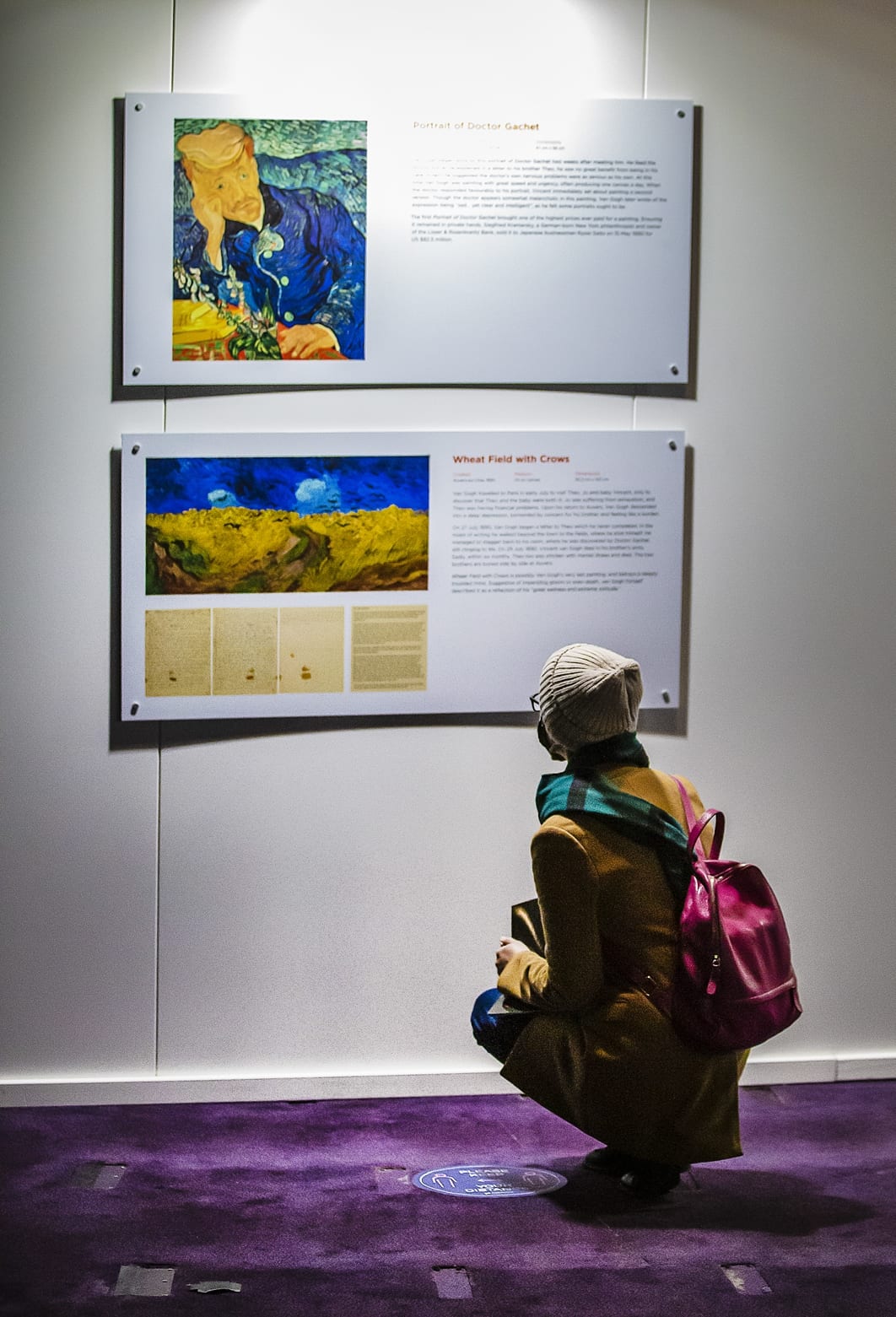 The SENSORY4™ Gallery
This is it, the part of the exhibition that you've been waiting for. From the moment you walk into the SENSORY4™ Gallery, you will be blown away by the powerful immersive experience that awakens the senses and literally transports you inside Van Gogh's greatest works. Set to an evocative classical score, it is a truly moving experience that will live long in the memory.
Van Gogh's bedroom
After experiencing the SENSORY4™ Gallery, you will have the opportunity to walk into a life sized representation of 'Van Gogh's Bedroom' – one of his most famous pieces of work. Don't miss your chance to re-create this iconic painting by getting a snap of yourself in his room!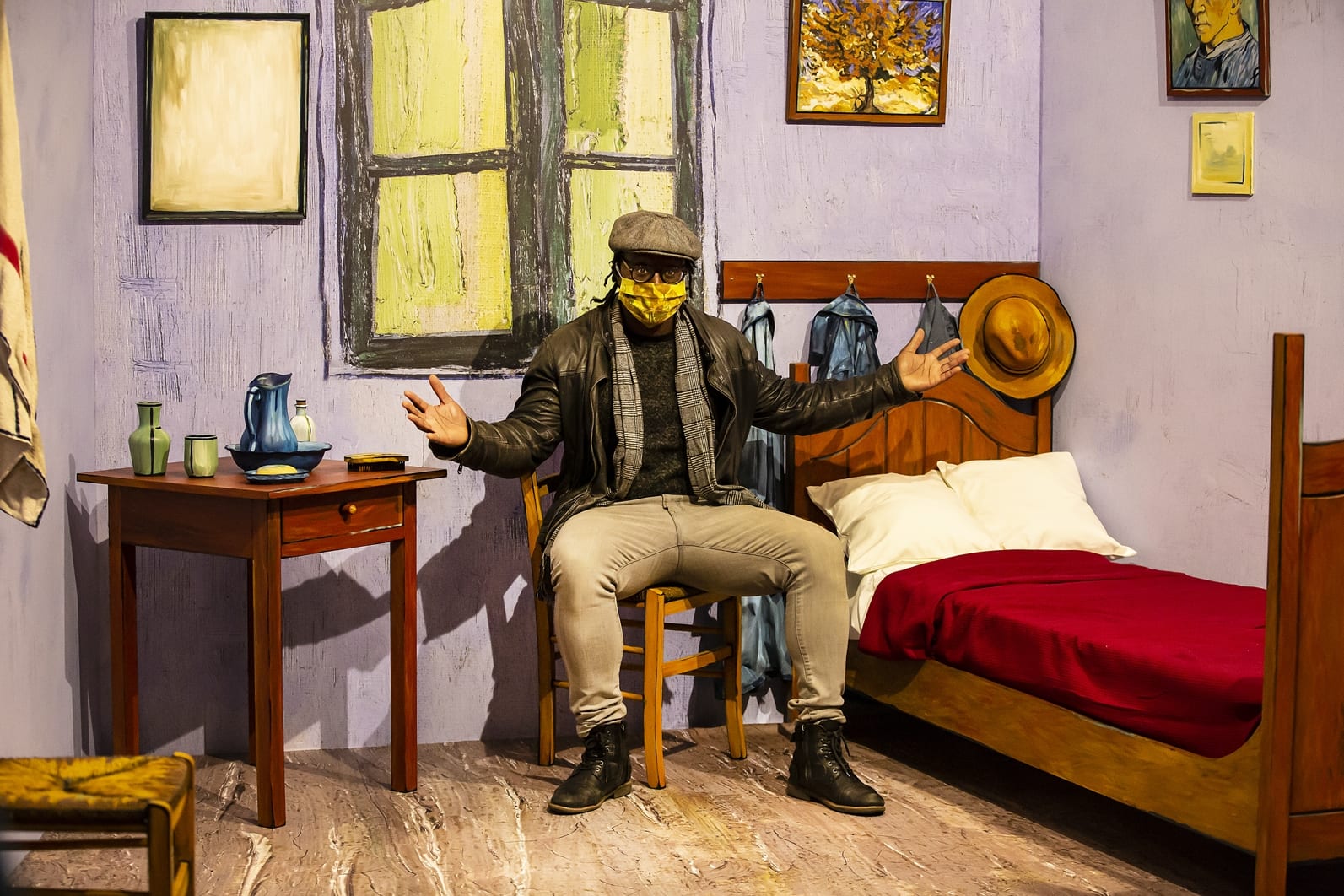 Art activity area
With inspiration from Van Gogh's works, you will have the opportunity to create your own masterpiece in our Art Activity Area! Featuring informative video tutorials, you will get hands-on experience in drawing techniques, perspective and composition. This section is particularly popular with families, but with three graded tutorials on offer, there's something for everyone!
Immersive sunflower room
If you love a good selfie then prepare yourself for the immersive sunflower room! This mirrored room complete with hundreds of sunflowers provides an incredible backdrop for a selfie which we guarantee will make you the envy of your Insta followers. As well as a bit of fun, it provides you with a great memory of your experience at the exhibition (and who knows, maybe a new screen-lock image too!)


Shop & café
With the excitement now over, it's time to grab a coffee and a bite to eat and reflect on what an amazing experience you've just had. Once you've got your energy levels back, don't forget to pay a quick visit to our official Van Gogh Alive shop where you will find an array of fantastic Van Gogh themed items and clothing. From various sized prints to Van Gogh themed face masks, we've got a wide array of products we think you're going to love.