Plan your visit
Once you've booked your tickets, it's time to put the finishing touches to your visit to the Birmingham Hippodrome for Van Gogh Alive.
On this page you'll find everything you need to know about how to get to Van Gogh Alive and what to expect once you arrive at the exhibition.
If you have a question which is not answered within the FAQ section below, please contact us by clicking here. For all ticket and refund enquiries, please email tickets@birminghamhippodrome.com.
Getting here
Van Gogh Alive is presented at the Birmingham Hippodrome. The address for the main entrance is Hurst St, Southside, Birmingham, B5 4TB.
Birmingham Hippodrome is within walking distance of New Street Station and Moor Street Station and is easily accessible by car and public transport.
For detailed information including travel by car, train or bus and for parking information, please click here.
BIRMINGHAM HIPPODROME
Hurst St,
Southside,
Birmingham
B5 4TB
Opening times:
Monday : Closed (open May 31)
Tuesday : 10am – 6pm*
Wednesday : 10am – 6pm*
Thursday : 10am – 7pm*
Friday : 10am – 7pm*
Saturday : 10am – 7pm*
Sunday : 10am – 5pm*
*Last Entry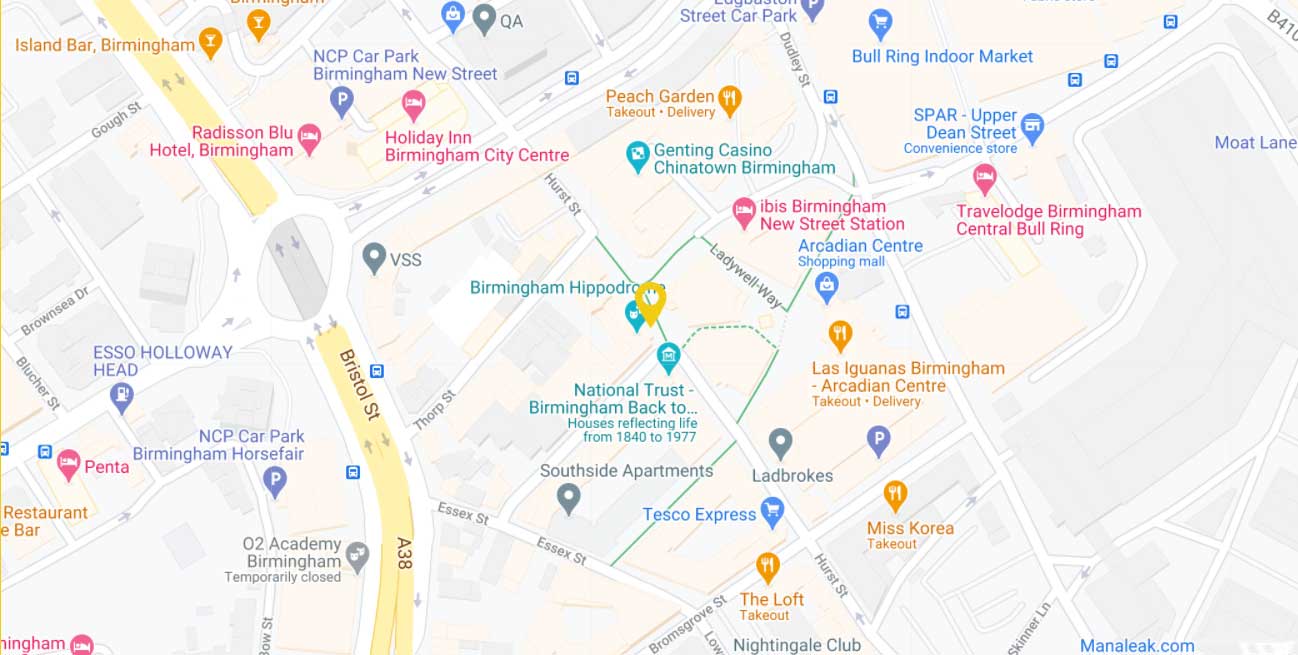 Frequently asked questions
What is Van Gogh Alive?
Van Gogh Alive is not an art exhibition in the traditional sense. It is an immersive, multi-sensory multimedia art experience which combines high definition projections of Van Gogh's paintings with digital surround sound. Imagery and animations are projected at a scale that offers visitors the ability to see the details of the artists work like never before. More than 3,000 images transform each surface. However, there is no physical work by Vincent Van Gogh on display.
What is the best way to see the experience?
We encourage you to move around freely to view the experience from different perspectives, always mindful of other visitors in the venue.
What is SENSORY4™?
Developed by Grande Experiences, SENSORY4™ is a unique technological system that combines multi-channel motion graphics, cinema quality surround sound and up to forty high-definition projectors to provide one of the most exciting multi-screen environments in the world.
General information
When should I arrive?
You should plan to arrive about 15 minutes prior to the time printed on your ticket. Please arrive within the entry times displayed on your ticket. Due to the popularity of the experience we may not be able to accommodate you if you arrive later than your ticket session.
How much time do I need to see the experience?
Individual visit times will vary, but most visitors can anticipate spending 60 – 90 minutes. The main feature of the exhibition lasts approximately 45 minutes.
Is it suitable for children?
Yes, the exhibition has been designed to appeal to all ages. There is no minimum age to visit the exhibition. Children under 5 years old are admitted FREE of charge when accompanied by an Adult. They still need a ticket so we can manage numbers safely. Child tickets (aged 5-16) start from just £12.50.
Can I access with a stroller or wheelchair?
Yes, the venue is suitable for strollers and is wheelchair accessible.
Can I take photos and videos?
Yes, you are more than welcome to take photos and videos inside the experience. Please be considerate of other visitors when taking photos.
When posting images and comments on social media, please use the hashtag #vangoghalivelondon so more people can see the exhibition through your eyes.
Please be advised that flash photography is not permitted inside the SENSORY4™ gallery.
Are food and drink available inside the experience? Am I allowed to bring my own?
Yes, there is a delicious array of food and drink available in "Café Provençale" which is located within the Van Gogh Alive venue. Whether you fancy a light lunch or simply a glass of fizz overlooking Kensington Gardens, we've got you covered!
Please note, no outside food or beverage will be allowed inside the venue.
Can I bring in bags? What are the prohibited items?
No cloakroom will be provided so all bags and items must be carried with you inside the exhibition.
We therefore recommend bringing small, easy to carry bags.
Ticketing
Do I need to purchase a ticket?
Yes we strongly recommend you book tickets online in advance of your visit. To ensure a comfortable and safe visit for all visitors, access to the experience is by timed entry. Once inside, you can enjoy Van Gogh Alive at your leisure keeping mindful of COVID-aware considerations.
Can I buy tickets onsite?
Yes, there is a box office on site. However, advanced booking is recommended as you will have a better chance of securing your preferred time slot.
Can my tickets be exchanged, modified or refunded?
All bookings are considered confirmed and final at the time they are made.
Should any show date be impacted by COVID-19, tickets may be fully refunded or exchanged.
If you are self-isolating because of COVID-19, you will be eligible to transfer your ticket to another available date.
Is my ticket valid for another day?
Tickets are purchased for a specific time slot and will not be valid for entry on another day or time. This is required so we can ensure a limited number of visitors within the venue, and to offer you the most memorable and safe experience.
We cannot guarantee access to the experience outside the hours indicated on your ticket.