Best of Brighton
Whilst you explore the beautiful city of Brighton around your visit to Van Gogh Alive, we highly recommend visiting the following unique destinations. Whether you're a local or visiting the city for a short space of time, a visit to the below attractions should absolutely be considered!
Experience Brighton's best views at Brighton i360
Glide up gently to 138 metres high in the spacious glass viewing pod to enjoy 360° views of the sea, the sky, the South Downs, and the buzz of the city below.
Whatever time of day you visit, there's so much to see and if you're lucky enough to catch the sunset from the top of the tower, you'll be treated to one of the best panoramas in the city.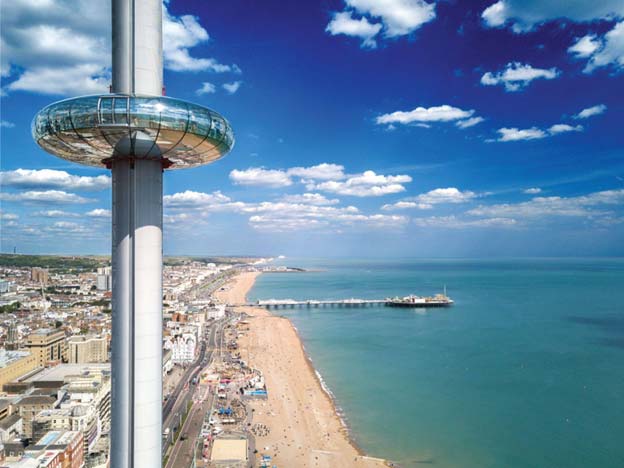 Fancy a glass of bubbles with the view? Whatever your tipple, you'll find a great selection of drinks and nibbles at the South Coast's highest bar, the Nyetimber Sky Bar, inside the pod!
Looking for a more thrilling way to experience views of the city? Challenge yourself to one of our adrenaline-fuelled Extreme 360 activities! Release your inner daredevil on Walk 360, combat the coastal aerial adventure of Drop 360 or scale new heights on Climb 360.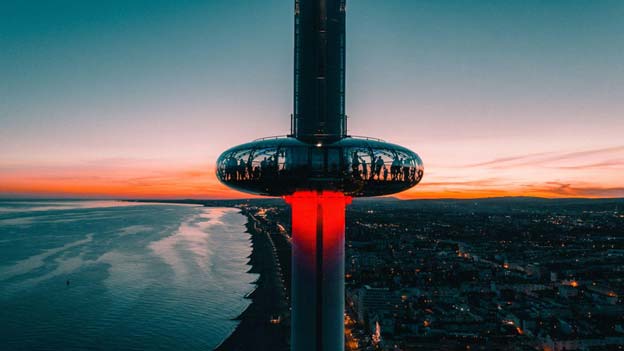 Back on the ground, find out how the i360 was built in the free exhibition, check out the many products created by local artists in our gift shop, and stop by our beachfront restaurant, West Beach, to enjoy a bite to eat or drink with uninterrupted sea views!
The best of Sussex under one roof
Shelter Hall Brighton is a unique and exciting food and drink destination located on Brighton's seafront promenade. The visually stunning food hall brings together a collection of independent food and drink vendors offering a diverse range of culinary delights to visitors.
With a focus on locally sourced food and drink offerings across seven unique kitchens and two craft beer, wine and cocktail bars, Shelter Hall creates a vibrant and dynamic atmosphere that attracts locals and tourists alike.
Visitors to Shelter Hall Brighton can choose from a range of different food vendors, including pizza, burgers, sushi, and seafood, as well as craft beer, wine, and cocktails. The vendors are carefully selected to ensure a high standard of quality and variety, providing something for everyone.
The venue is open seven days a week, offering breakfast, lunch, and dinner options, as well as a range of drinks and snacks. With its prime location overlooking the seafront, Shelter Hall Brighton is the perfect place to enjoy a meal or drink with friends and family, while taking in the stunning views of the English Channel.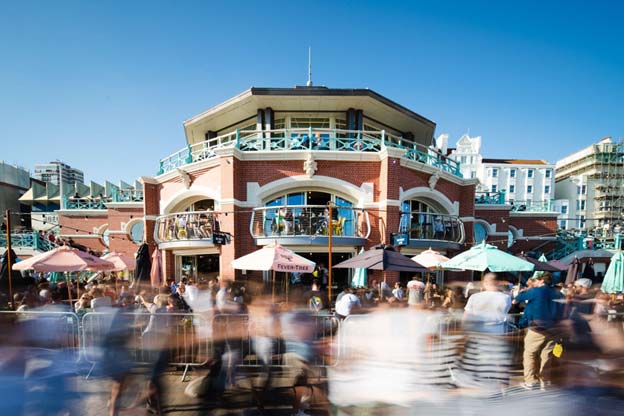 Enjoy a stay at Hilton Brighton Metropole
If you're looking for a memorable stay in Brighton, Hilton Brighton Metropole is a perfect choice.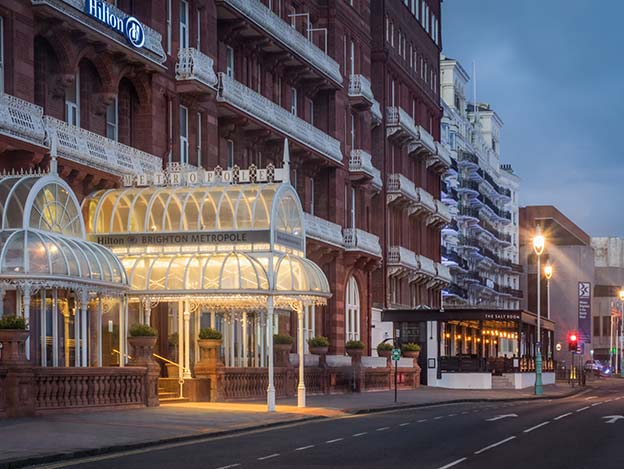 Set on the vibrant Brighton seafront, their 1890's building is steps from Brighton Centre, Brighton Palace Pier, The Royal Pavilion, and the boutiques and bars of The Lanes are all within a half-mile. The Brighton i360 viewing tower is a two-minute walk away.
Guests can enjoy their on-site health club LivingWell, offering an indoor pool, sauna, and steam room.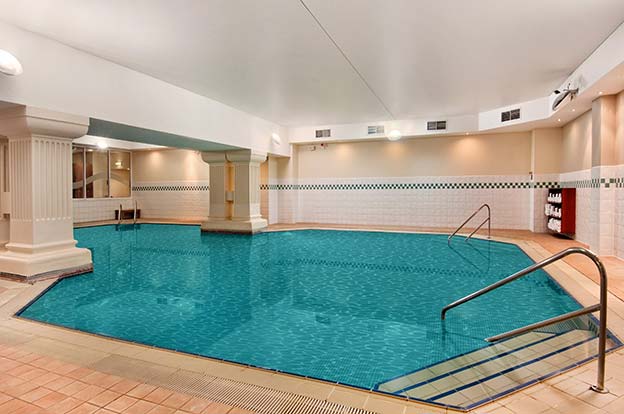 Save 10% on your stay at The Hilton
Our hotel partner, Hilton Brighton Metropole is delighted to offer you 10% off the best available rate at the time of booking.
To redeem your 10% discount, enter the code AVANA at checkout or click BOOK NOW below to access the booking site.
A grand celebration of all things dog
Goodwoof is an annual event that celebrates dogs and their owners. Hosted by the Goodwood Estate in West Sussex, England. The event features a variety of dog-related activities and attractions, including agility courses, dog shows, obedience demonstrations, and flyball competitions.
The event attracts dog lovers from all over the world, with thousands of dogs and their owners attending each year. Goodwoof is a fun and exciting way for dog owners to bond with their pets, socialise with other dog lovers, and enjoy a day out in the beautiful countryside.
Enjoy 50% off tickets to Goodwoof
For the dog lovers of you, we're we're thrilled to offer you 50% off tickets to Goodwoof. To redeem your 50% discount, enter the code: GOODWOOD50 at checkout via their booking site.