The life and works of Vincent Van Gogh
Vincent Willem van Gogh was born on 30 March 1853 in Zundert, a small town in a largely agricultural region in the south of the Netherlands. The son of a Protestant pastor, Vincent became aware from an early age of the divide between his own middleclass upbringing and the poverty-stricken lives of the local laborers and peasants.
After leaving school in 1869 at the age of 16, Vincent began work at Goupil et Cie, an art dealership in which his uncle was a partner. Vincent became increasingly involved with the commercial side of the art world, organizing exhibitions, selling original and reproduced artworks – and seeing the prices that they were fetching. During his six years at Goupil et Cie, Vincent was exposed to a wide range of paintings both at home and in London and Paris, planting the seed for an enduring passion for painting. He was particularly fond of the work of Jean-François Millet and other realism painters from the Barbizon School.
Vincent's early twenties were a time of great uncertainty as he tried to define a career path for himself. In 1876, he was terminated from Goupil et Cie when unrequited love left him depressed and slightly erratic. Over the following four years, Vincent made an unsuccessful attempt at theological studies then briefly served as a missionary. Once again he was dismissed, this time as a result of his overzealous approach to his duties.

Van Gogh the artist
In 1880, at the age of 27, Vincent finally turned to art. Inspired by the Impressionism and Post-Impressionism movements of the 19th Century and heavily influenced by artists of the time such as Monet, Pissarro, Bernard and Gauguin, Van Gogh appeared to have finally found his calling. The urgency and intensity of his work is imbued in many of his paintings.
Completely self-taught, Van Gogh was one of the most prolific artists of his time. In only ten years, he produced more than 2,000 works of art, consisting of around 930 paintings and 1,100 drawings and sketches. Despite this great volume of work, The Red Vineyard is the only piece known to have sold during his lifetime. Anna Boch, a prolific collector of Impressionist paintings, purchased it during the Brussels Art Expo in 1890. She paid 400 francs, the equivalent of US $1,900 today.
Van Gogh's artworks now sell for millions of dollars at auctions and private sales around the world. Portrait of Doctor Gachet brought one of the highest prices ever paid for a painting. Ensuring it remained in private hands, Siegfried Kramarsky, a German born New York philanthropist and owner of the Lisser & Rosenkrantz Bank, sold it to Japanese businessman Ryoei Saito on 15 May 1990 for US $82.5 million.
Timeline of Van Gogh's most significant works
It is generally considered that Van Gogh's greatest works were created from 1880 once he had fully committed himself to art. In this 10 year period up to 1890 when he died, Van Gogh created a stunning array of paintings, many of which are brought to life in vivid detail at Van Gogh Alive. Scroll down to discover the places that he lived and the most famous works of art he created in each location.
The Netherlands
Period
1880–1885
Locations
The Hague, Drenthe, Nuenen,
Amsterdam, Antwerp
Significant works
Man at Work
Head of a Woman
The Potato Eaters
Backyards in Antwerp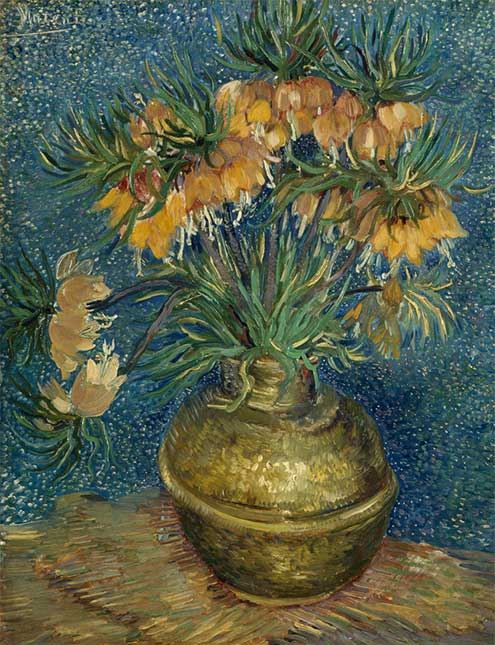 Paris
Period
February 1886–February 1888
Location
Paris
Significant works
Portrait of Père Tanguy
Flowering Plum Tree (after Hiroshige)
The Italian
Two Cut Sunflowers
Self-portrait with Grey Felt Hat
Boulevard de Clichy
Agostina Segatori Sitting in the Café du Tambourin
Self-portrait with Straw Hat
Still Life with Quince Pears
Arles
Period
February 1888–May 1889
Location
Arles
Significant works
The Yellow House
The Red Vineyard
Sunflowers
Vincent's Bedroom in Arles
Cafe Terrace at Night
Starry Night Over the Rhone
Vincent's Chair with His Pipe
Gauguin's Chair
Portrait of Dr. Felix Rey
Portrait of the Postman Joseph Roulin
Self-portrait with Bandaged Ear


Saint-Rémy
Period
May 1889–May 1890
Location
Saint-Rémy
Significant works
Irises
Starry Night
Self-portrait 1889
Blossoming Almond Tree
Portrait of Trabuc
Corridor in Saint-Paul Hospital
Wheat Field with Cypresses
Auvers-sur-Oise
Period
May 1890–July 1890
Location
Auvers-sur-Oise
Significant works
Portrait of Doctor Gachet
The Church in Auvers-sur-Oise
Cows
Girl in White
Child with Orange
Doctor Gachet's Garden
Madame Gachet in her Garden
Young Man with Cornflower